Wifty Susan lives in Shanghai with her husband Kerry, who after their three-year expat assignment at Evonik Cooperation in Antwerp, chose to run a new company founded under the Evonik umbrella, now called Roehm in Shanghai, China. We met Susan when she lived in Antwerp, she also took painting lessons at the art academy and was a regularly guest at our Wifty parties & events with her friends. Lovely woman!
With all the fuss about the Corona virus (COVID-19), she told us that everything was OK with them, in response to the multiple worried messages she has received.
SUSAN: "So many of you have reached out to check on us here in Shanghai… THANK YOU! After talking with my mom, I felt the need to just give everyone an update on our status. We are doing fine! We have to be in quarantine for 2 weeks .. Kerry is working from home for another week and we have been keeping ourselves busy. We have 2 large parks on each side of our compound and we also have a beautiful Japanese garden where we can go out and walk, sit, run.. etc. I have been painting and have twisted Kerry's arm into doing yoga everyday with me. ??  Situations of this nature are a mindset of how you handle them. We are wearing masks when outside our apartment, having food delivered and washing everything.
Here in Shanghai there are 291 confirmed cases as of today out of 28 million people (to put it in perspective). The mortality cases you are hearing about are mostly in the original Provence of Hubei due to shortages of supplies and staff. We feel safe where we are and everyone in our compound and at Kerry's work are being mindful of the situation and making preparations for unexpected outcomes after the quarantine is over and everyone returns to work.
All respect for the people who have been infected, for the doctors and nurses working tirelessly & hope this virus to come to a halt very soon! ?
Lots of hugs from Shanghai!"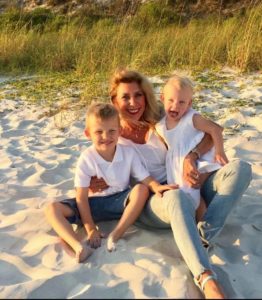 Who is Susan?
SUSAN: "A wife, a mother, a grandmother, an artist & a certified adult & children's yoga instructor.  My heart is full…    I have the most wonderful husband whom I met nine years after my first husband's death to ALS.  I never imagined that a small town girl from the southern United States would be living and traveling all over the world, much less living in CHINA.  For the past seven years, my life has been like a box of chocolates… 'You never know what you're going to get.'  I feel so thankful to have met so many wonderful friends while living in Antwerp and this quaint little city soon felt like "home" for us." 
As Vice-President of the American Women's Club of Antwerp for 2 years, it gave Susan the opportunity to leave her mark in several areas.  During time in Antwerp, the AWCA opened 2 new breast cancer lounges in two different hospitals and Susan donated paintings to help in the funding of both lounges. One painting hangs at Middelheim Hospital and the other was purchased by Le Zoute Zoen for their restaurant. Susan was also part of an online auction, artists-fightingcancer.com, to raise funds for children's cancer research globally.   
"As a retired teacher and a non-working spouse of an expat, it gave me multiple opportunities to explore two of my passions, art and yoga.  I was a three year student at the Royal Academy of Fine Arts in Antwerpen where I honed in on learning new techniques and styles while exploring art by some of the old Dutch Masters.  Antwerp is so rich in art history! 
I was also able to further my curiosity of yoga and how it evolved by getting certified both in adult and children's yoga.  As a former teacher, I feel yoga is such a wonderful way for children to deal with stress and anxiety in today's world.  I didn't begin practicing yoga until my late 40's and it made a huge difference in how I felt and dealt with everyday life.  Yoga can be transformational for so many adults if they would just give a chance… it is a lifestyle that serves your mind, body and soul.  And as I approach my 60th birthday in this "Year of the RAT", I choose to age gracefully with peace of mind and confidence in who I am! 
Why we live in Shanghai:
After our three-year expat assignment with Evonik Cooperation in Antwerp, Kerry chose to venture out to manage a new company created under the "Evonik umbrella", now called Roehm in Shanghai, China.  We will be in Shanghai for an additional three years."
⚫️ Wil je de tekst in het Nederlands lezen? ►►► https://www.wifty.be/susan-59-shanghai/