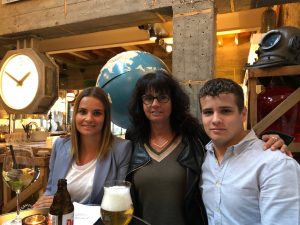 Tania werd dit jaar 50, ze is de trotse moeder van 2 volwassen kids, Evi (26) en Enzo (20).
We vroegen haar wat haar geheim is om gelukkig en gezond ouder te worden:
TANIA: "Actief blijven, een positieve geest en gezonde voeding houden mij fit, en ja ook rode wijn en mijn dagelijkse portie chocolade horen daarbij! 
Ik vind het belangrijk om af en toe eens uit je comfort zone te stappen, nieuwe uitdagingen aangaan houden het leven spannend. 
Op mijn 30ste leerde ik met de motor rijden, ondertussen kan ik mijn mannetje staan tussen de 'biker boys'! 
Op mijn 40ste startte ik met skiën, dat was best zwaar, maar nu oh zo fun!
Nu ik dit jaar 50 ben geworden heb ik nog een hele bucket list te gaan. 
Dus nooit vergeten Wifties, you're never too old!
Proud to be a Wifty!"
✖︎

Heb je ook een leuke foto en een verhaal dat je hier op Wifty wil delen? Stuur foto + tekst naar wifty@wifty.be , wij nemen contact met je op.